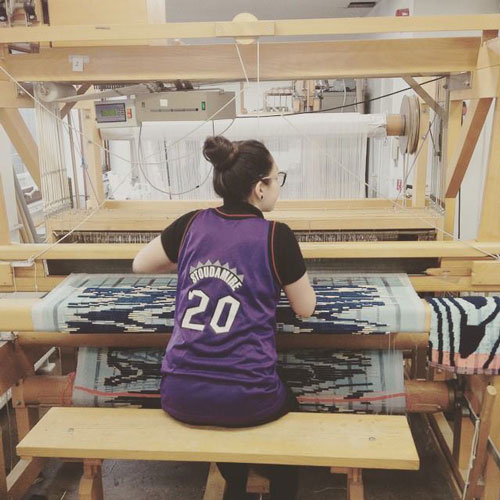 La démarche expérimentale fait partie intégrante de mon travail, tant dans une dimension laboratoire artisanale qu'en industrie. Très engagée dans des recherches d'ennoblissement, la recherche technique, la création de textures, rythmes et couleurs me fascinent par l'étendue des possibilités que ce terrain déploie. J'entends questionner des textiles de demain et leurs usages dans différents domaines.
Les collaborations et partenariats que j'ai engagés dans des expériences professionnelles ont été et sont primordiaux, que ce soit avec des laboratoires ( Inovyn ) des structures industrielles ( Benaud Création, Dedar, Vandenhove, LTC,…)  ou des artisans ( Métallier, Tapissier, Bottier, dans le cadre de Paris Deco Off, « L'assise revisitée » et Vitrine pour un Designer ) ; l'échange de savoir-faire et de sensibilités s'avère toujours constructif tant sur le plan de la conception, de la réalisation que sur le plan humain, chacun étant susceptible de déplacer les limites de son interlocuteur par des questions, suggestions, de nouveaux gestes.
Experimentation and manipulation are the main characteristics in my way to work with textile . The search for new materials, color, trends, technics and textures, is part of my concerns in my vision of tomorrow textile.
I questioned myself, through my research, on textiles of the future, to keep an important place for its future use: for example in the world of fashion and industry. I think they are fascinating domains which offer a lot of possibilities.
Collaborations and partnerships I have engaged in professional experiences are essential, whether with laboratories ( Benaud Creation, Dedar, Vandenhove, LTC,…) or Artcraft workers ( Metalworker, Upholsterer, Bottier, in the Paris Deco Off,  » L'assise revisitée » and Vitrine pour un Designer );Sensibilities and knowledge exchange is always constructive in terms of design, achievement and in human dimension ; being capable to move the limits of his interlocutor by questions, suggestions, new gestures seems to me essential.