Enduction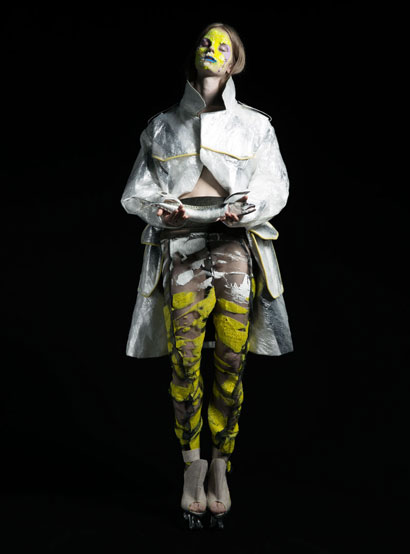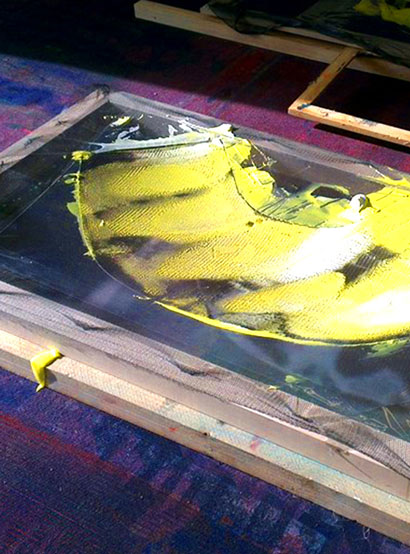 Photographie : Pierre Debusschere
Silhouette de Alexandre Paty
L'effet de moirage résulte de la superposition de deux trames à mailles régulières. Je révèle ce phénomène par la technique de l'enduction en soudant ensemble deux ou plusieurs résilles qui créent un jeux de trames.
Ce phénomène d'interférence me permet de donner des effets d'optiques vibrants et ondulants.
Ce dispositif génère dans la surface, des pleins et des vides, un dessin matriciel binaire. Des flux numériques captivants et furtifs.
Le résultat révèle une «image» de ce phénomène fugace.
Sur ce principe, ces surfaces offrent différentes perceptives d'usages selon les trames et les matières d'enduction de l' architecture à la mode et l'ameublement.
Moire effect is from the superposition of two regular fine-mesh screen. I reveal this process by the technique of textile coating and join together two or more fishnet to play with weft.
I create vibrant and wavy optic effects with this process.
This dispositif generate positive and negative spaces and binary matrix drawing in the surface. Captivating and furtive numerical flux.
The result reveal a "picture" of this ephemeral mechanism.
With this principal, from fashion to furnishing and architecture, the surface offer different perspective of the use according to the weft and textile coating.
Collaboration avec ALEXANDRE PATY, styliste.
 » J'ai présenté notre travail comme un écho aux expérimentations sonores existantes dans la culture Industrielle, plus précisément chez Throbbing Gristle (fin 70's).  »
 » En effet les vibrations produites par les moirages produisent dans un premier temps un motif incontrôlable laissant place au hasard et exprimant une volonté de liberté dans la création. Nous surprenant nous même à chaque fois.
Ce motif construit par le vide, me rappelant l'immatérialité d'un son fait uniquement d'ondes est fixé puis révélé par le travail de l'enduction qui donne un corps au chaos.
J'ai voulu ce corps jaune et bleu pour toucher à quelque chose de franc et de primaire. Comme une signalétique pour montrer du doigt un larcène , son saturé, produit de notre monde.  »
" I have presented our work as a reference of an existing sonorous experimentation in the industrial culture, more precisely with Throbbing Gristle (end 70's)."
" The vibrations produced by the moire create uncontrolled pattern giving a space to fluke and express a desire of free creation. We always surprised ourselves.
This pattern created by the void, reminds me the immaturity of a wavy sound, reveal by a PVC coating work which give a chaos corpus.
I wanted this yellow and blue color to give a frank and primary touch. Like a signage to reveal a "larcène" – saturated sound – product of our world."